4 years ago I was broke, looking for a job after 7 failed years as an entrepreneur. Things have changed since, which is great but perhaps the most surprising is the business I've built through self publishing books. In the last 2 years I've written 4 books and turned them into a stand alone 6-figure side business. I never considered for a second that I would be a writer / author so it feels pretty wild.
I was recently asked to talk at the Dynamite Circle event in Bangkok on the topic of self-publishing (The 6-figure self publishing side hustle), and I thought I'd share the lessons here also, as well as my slides (available at the end of this post).
Here are all the topics covered in this post, you can click on the topic to go down the page to the content.
Getting ideas for your book
When I think about generating ideas for books I think about it as a two step process. First is how to do you think of book ideas in the first place, and second is how do you choose a good idea from all the ideas you have.
Coming up with ideas
Here are some ways to come up with book ideas and some examples from my books.
Community: Go to your peers and communities and see what sort of content or information they're crying out for, or otherwise ask them directly. The 7 Day Startup Facebook group has been a huge influence in all of my books.
Traction/extension: Maybe you've recently published a blog post or had a podcast that generated a lot of interest and feedback. This may be a clue as to a good idea or topic to write about that would do well. I see books come to fruition using this method all the time. The book I am reading right now, Mark Manson's The Subtle Art of not giving a f*ck, was originally one of his most viral blog posts.
Inspiration: I like to surround myself with positive and inspirational people and content. Perhaps an inspirational quote may be the trigger for coming up with the perfect idea.
Expertise: If you're a subject matter expert or have a skill or aptitude for something, it may be logical to write a book about it. My first two books, The 7 Day Startup and Content Machine, were founded on my experiences in successfully starting up a business on the fly and leveraging off the benefits of content marketing.
Relax: Put yourself in the right headspace for coming up with ideas. A relaxing environment free of distractions will help get your ideas flowing if you find yourself struggling with where to take things. Stanford researchers found that going for a walk can improve creativity by as much as 60%. Many of my best content ideas have come from one of my regular morning beach walks. Scott Barry Kaufman Ph.D, a cognitive psychologist and creativity expert, found that 72% of people experience new ideas in the shower. Do whatever you need to do to relax, and your creative juices will flow.
In person: Meeting inspiring people and hearing their stories has always been very motivating for me.
Here is how the ideas for my 4 books came about.
7 Day Startup – My first book started out as a blog post series where we launched a new business in 7 days. The concept got traction so I decided to write a book about it.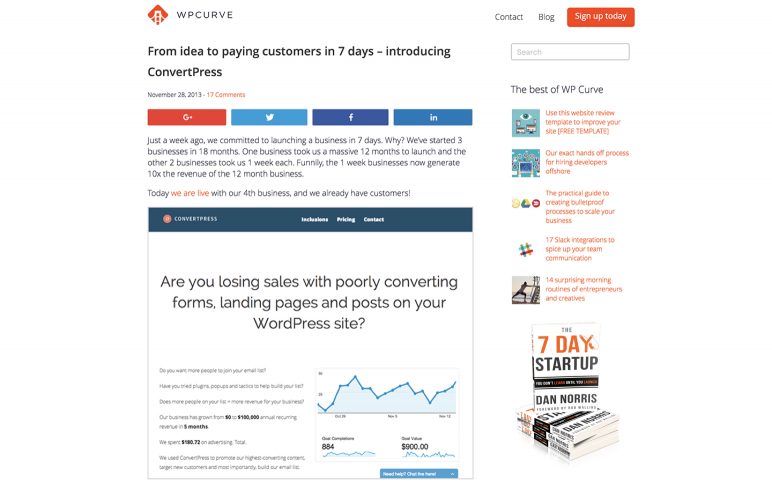 Content Machine – My second book came as a result of telling our story of building WP Curve to a $1m business with $0 in advertising, using content marketing alone. This story got traction and eventually I decided to write a book about it.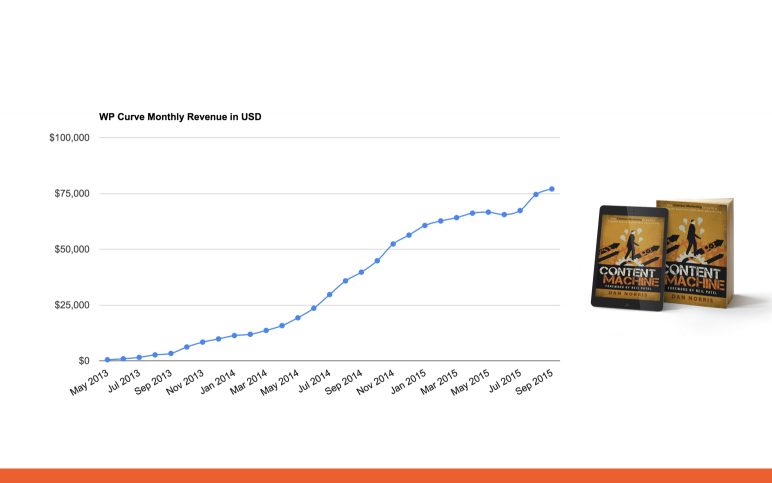 Operation Brewery – Last year me and my 2 mates landed a deal to brew the official beer for Call of Duty Black Ops III. The story of us doing that and using the momentum to go on and build our own brewery became my 3rd book Operation Brewery.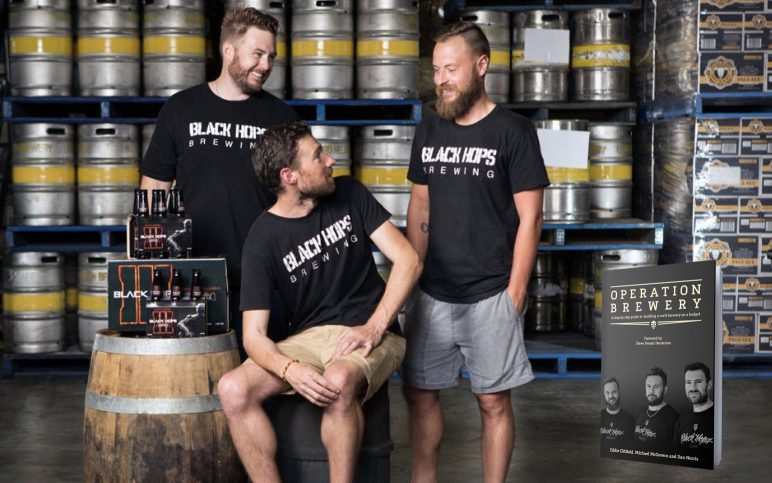 Create or Hate – The idea for my current book, Create Or Hate, came about partly as a result of the Ricky Gervais quote below on creative inspiration.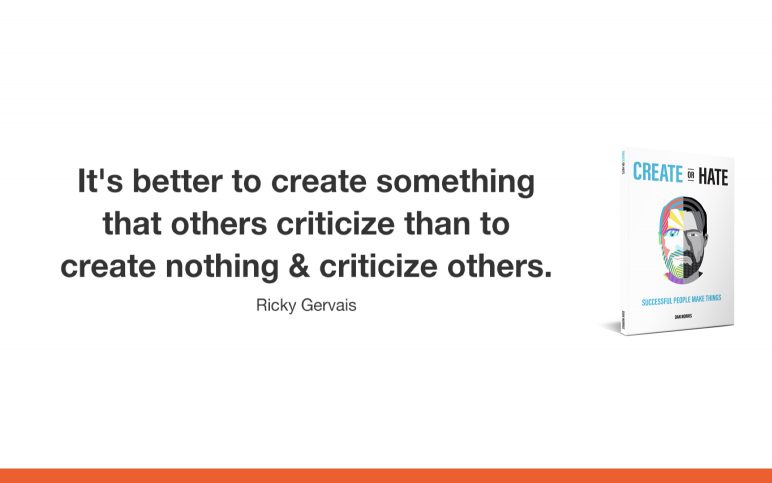 Choosing a good idea
Once you've got a bunch of killer ideas to choose from, you'll need to choose which one is best for becoming a book. Here is a framework which I have applied to help me in choosing my final ideas.
Is it a neatly packaged idea? I like my books to become brands in their own right. Something that is easily transferrable and something I can build a business around. A short phrase that describes what it's all about is preferable to a 1-word title or a long title.
Does it need to be written? Don't write a book to use as a business card. Only write a book if it needs to be written. Unless you can bring a new slant or alternative viewpoint to the table, you may need to consider an alternative idea.
Can you build a brand around it? I like to choose a name that I think I could re-purpose into some sort of business if I wanted to. 7 Day Startup could be into education, info products, memberships, Content Machine could be a software app or content marketing service. Whether I choose to monetize them or not, I do want to have that option because if it's an idea that I feel I could build something bigger around, it's a good sign that it's an idea that can spread as a book as well.
Is it a strong 'why? Do you have a good reason to write a book on this idea or are you doing it just to make money or just to use as a business card? Pick the idea with the strongest 'why'.
Domain availability. It always pays to check on this upfront. If your ideal domain name is already taken you may need to consider your options. I paid $5,000 for ContentMachine.com, I got 7daystartup.com for free and createorhate.com was available ($8).
Is it a good story? Books that are purely actionable or technical don't really work for me. Which idea presents the best opportunity for you to weave a unique story into it?
There is no blueprint. This is something I tell people all the time who ask me how to make the book they've just written into a best-seller. There is no such thing as a blueprint that shows you how to turn a crappy product into a best-seller. You need to have a great product to begin with. You can't look at marketing in isolation to the idea.
Writing process and tips
How my books were written
Most of the words for my books were written away from my normal working environment. I find that putting myself out of my regular location and routine works best for my writing process.
My first book, The 7 Day Startup, was written over a few weeks at an old table in my backyard, which I'd never worked at before and have never worked at since. Plane flights have worked well for me too when it comes to churning out the words. The first 12,000 words of Content Machine were written on a 6-hour flight to Singapore and the first 20,000 words of Operation Brewery came together across 2 plane flights. The first 5,000 words for Create Or Hate came to me on another plane flight. For the rest of the book, I set myself the challenge of completing it on day 6 of one of my recent 7 Day Startup Challenges.
Writing tips
Here are a few simple guidelines that have served me well when writing all of my books.
Decide upfront how many words you want to write and make sure that hitting your 100% word count target is your only goal. When writing a book I constantly track my progress with word count, even if it's just at 5%. I call this my 'vomit draft' and I don't focus on anything else to do with the book until I've met my first draft deadline at 100% word count.
As mentioned already, stepping out of my regular work environment and routine has served me well for staying inspired and focused. You don't have to necessarily jump on a plane, simply put yourself into whatever new, distraction-free environment that works best for unleashing your inner writing beast.
Another thing I like to do with my book content is to publish bite-sized chunks of it prior to releasing the book. I enjoy publishing content and having to wait 6 months before being able to release something tends to de-motivate me. In the lead up to a book launch, I like to publish relevant content from it, typically in the form of blog posts or Instagram quotes. This will help build up anticipation and generate interest in your pending best seller. However, the main reason I do it personally is to keep my motivation full during the writing process. It also increases the external pressure to get the book out. Self-imposed deadlines and external pressure are great motivators.
I shared the entire Create or Hate book via the comments in Instagram in the months leading up to the launch.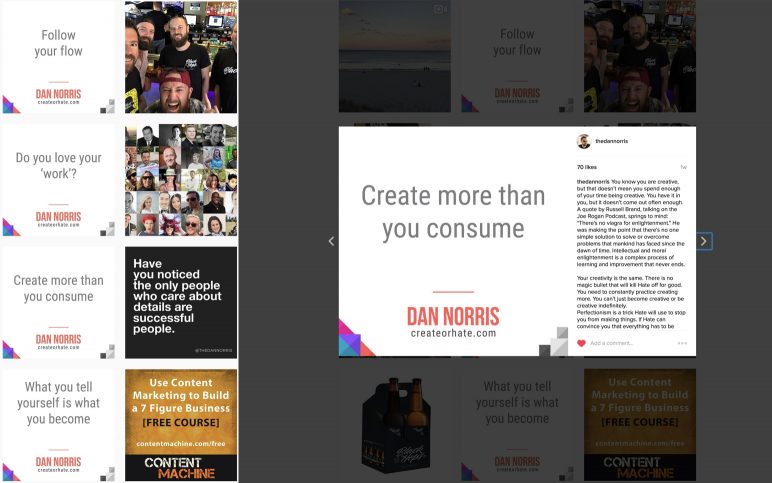 Write at a frequency that works best for you to meet your word count deadline. Some people advocate writing every day, whereas I prefer writing in intense, highly focussed blocks.
I find it beneficial to set myself deadlines and really push myself to complete my word count. Unless you're super disciplined or write every day out of habit, your timeframe will blow out and you run the risk of losing your focus and motivation for getting it finished. I normally set myself a clear launch deadline pretty early on. For Operation Brewery we had pre-sold the book in our crowdfunding campaign so there was a lot of external pressure there. That was a hard book to write and I'm not sure if would have come together if we hadn't pre-sold 150 copies before I wrote the first word!
Editing Fuck editing!
Yes that's probably being a bit harsh! But for me, editing is more of a necessary evil rather than something I embrace as part of the process. I like to keep it as streamlined as possible, having just a few trusted editors on board to help me with getting it to final draft. Having an extra set of trained eyes to review your work is necessary, but too much input can mess with your vision and blow out your timeframe. Editing is a painful process and I don't have a huge amount of value to give here on how to make it less painful. I have had a lot of great help for my books which is great but it's still the most difficult and least enjoyable part of the process.
Nailing your design
A lot of people told me they loved the Create or Hate cover design and they asked who my designer was. But that's the wrong question. Great design doesn't come about by delegating the responsibility to a 'great designer', it comes about through a vision from an entrepreneur and a collaboration with a great designer.
It doesn't happen via design competitions and putting 5 options on Facebook for your friends to choose from.
With the front cover image for Create Or Hate, I came up with the concept myself then sourced a quality designer with the expertise to bring it to life. It was about differentiating myself from a lot  of the other creatively themed business books out there. I wanted a striking image that could convey what the book was about, rather than going with a dry, word-heavy title. My designer Camille Manley did an epic job in the end, but she was my second designer and start to finish I probably went through 50 versions before there was that felt like what I wanted. I didn't show anyone looking for feedback or permission, I just chose it. And it wasn't cheap!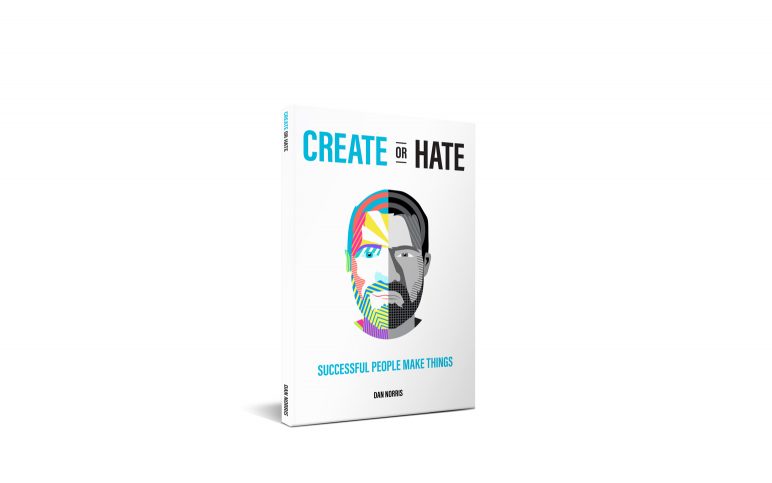 Having a professional looking design is also the #1 hack for helping build immediate trust for anything in business. As the saying goes, you only get one chance to make a good first impression, which is why I don't mind spending extra time and money on getting this right.
When choosing the titles of my books, I look for a phrase that describes what the book is about, but which can also become a brand or business in its own right. The 7 Day Startup is a succinct, brandable name which steers clear of wordy, generic titles or clever one-word titles that look good on the shelf but make it hard to build a brand around. This ends up helping the design process out a lot because it's much easier to design around a short 2-3 word phrase than a long wordy title.